The MPS used to be a world class organisation that led the world in tackling police racism. Traumatised by the horror of the deliberate and calculated police racism that allowed the racist murders of Stephen Lawrence to evade justice, the MPS embarked on a radical reform programme designed to rid British policing of the curse of institutional racism.
Today
Stuart Lawrence
brother of Stephen, a teacher, has complained that he is being targeted for repeated stop and search simply because he is black. Unfortunately his experience is all too familiar to young black people in London.

Stuart Lawrence. (Photo by Keith Waldegrave)

Stuart's complaint represents a significant blow to the MPS who have repeatedly claimed to have a zero tolerance approach to racism according to the Commissioner Bernard 'Hulk' Hogan Howe. He has of late committed to
reducing stop and search
in London; however history suggests that when there is a reduction in the overall figures, the stop and search of black people disproportionally continues to grow despite top line reductions.
Don't believe me? Stop and search of black people across the UK has risen every year since the publication of the seminal Stephen Lawrence report in 1999, yes that's right, every single year.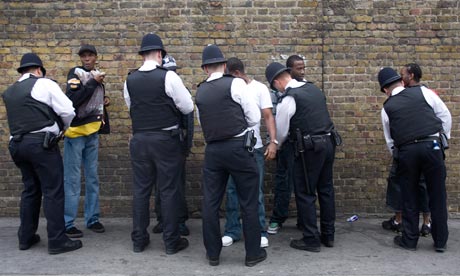 (Photograph: Gideon Mendel/Corbis)
Commissioner Howe has a real problem. The organisational and political commitment to tackle racism in policing has all but evaporated as a result of the election of Tory Mayor Boris Johnson. In some ways Howe's announcement in January this year reminds me of the Government commitment to reduce immigration; designed to placate but completely impossible to achieve.
One of the real bulwarks against reducing stop and search figures is the simple fact that each police officer is empowered through the antiquated medieval Office of Constable that allows each individual officer to interpret the law as he sees fit, enshrining the modern concept 'operational independence'.
Every sworn police officer in England and Wales is a 'Constable', irrespective of rank. It is from the Office of Constable that each officer derives his or her powers.
The Office of Constable means a police officer has the additional legal powers of arrest and control of the public given to him or her directly by a sworn oath and warrant. These are not delegated powers simply because they have been employed as an officer. Police officers are not employees; they are not agents of the police force, police authority or government. Each police officer has personal liability for their actions or inaction.
Those who hold the Office of Constable are servants of the Crown, not employees. Each sworn constable is an independent legal official.
The result is that the Commissioner cannot order police officers to reduce the stop and searching of black people as they are legally empowered to execute the law where they 'believe' people are behaving suspiciously or committing a crime.
His other major problem is that his officers are refusing to comply. For years stop and search has been seen as an article of faith for PC's. They see this power as intrinsic to their control of the streets. It has become a central tenant of policing culture, a culture that is steeped in institutional racism, which infects operational policing at the point of delivery on the streets and where black young people are routinely seen as inherently criminal by police constables.
Howe's problem though is not just legal or one of low-level subordination, it is also a major political problem. Mayor of London Boris Johnsons approach to tackling racism is borrowed straight from his colleague Minister Eric 'The Vandal' Pickles whose stock response to any and all claims of institutional racism is routine denial.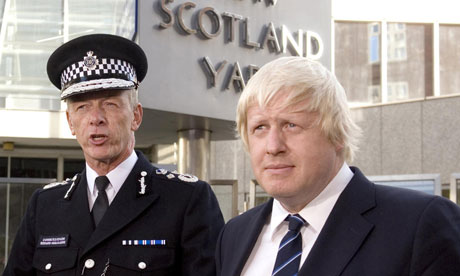 Commissioner Howe & Boris Johnson. Photograph: Dominic Lipinski/PA

In Britain today the political climate is such that to raise issues of racism is to be seen as 'divisive', to promote multiculturalism is to promote 'separatism'.
Doreen Lawrence
has already publicly condemned Government for its total lack of commitment to tackling institutional racism. All of the post McPherson policy infrastructure designed to monitor the incidence of racism and the effectiveness of Government policies has been ruthlessly dismantled in an ideological attack of unprecedented proportions. In terms of race equality policies and initiatives, this Government led by Pickles has employed a scorched earth policy.
The ongoing Tory Coalition's ideological attack against multiculturalism, anti racism and race equality has eradicated, eviscerated and dismantled all evidence of and commitment to, race equality policies.
Put simply, this Government sees race equality as a political anathema and as such, race as political priority, has long since been abandoned by this Coalition Government.
As it is in the country so it is in London; Boris has reduced London's race equality infrastructure to rubble.
The consequences have been dire. In London the culture of racial profiling in policing contributed toward the uprising of August 2011 costing the country millions and the deaths of innocents.
Stop and search, black deaths in police custody, increases in racial harassment, the ongoing net loss of black police officers, disproportionate use of tasers and violent restraint on black men, disproportionate cautioning rates for first time black and white offenders charged with the same offence, all of these realities give an insight into the parlous state of the MPS relations with London's black communities.
The consequence of Tory ideology in relation to race and policing is a catastrophic error of simply staggering proportions. Black and ethnic minorities in the capital are now the majority and it is vital that these issues are dealt or we will witness a capital increasingly characterised by deep hostility towards policing.
Lee Jasper (former Policing Director for London)