Kit Malthouse
The notion of policing by consent is the cornerstone of British policing. It is a cardinal rule in politics that the political and operational independence of the police should remain resolutely sacrosanct in the maintenance of this important principle. British police still remain scarred by the effects of the 1908's Miner strike where they were seen as acting in support of the political agenda of Margaret Thatcher. Talk to senior officers about that time and it is clear that this episode still leaves a bitter taste in their mouths.
The obvious danger for the police is that their authority as impartial enforcers of the law becomes deeply compromised when they are seen to act politically.

London has seen the deracination of these important two important principles under the Mayoralty of Boris Johnson and his Police Commissioner Kit Malthouse.
The revelations that Kit Malthouse tried to reign back the police inquiry into phone hacking, not once but on at least five different occasions, is further evidence of this growing culture of the attempted politicisation of the police.

The evidence given to the Levenson inquiry is explosive and reveals the extent to which relations between the Mayors Office and Scotland Yard have deteriorated.
What we have heard during the inquiry in relation to the Mayors Office is unprecedented.

The serious public criticism of Boris Johnson and Kit Malthouse by former or current senior MPS officers is simply staggering. (Lord Blair, Sir Paul Stephenson, Commander Cressida Dick to name but a few).
The MPS are a cultural and political institution and at a strategic level they operate like an Empire of old.

No entry into the field of politics is considered without much discussion and meticulous preparation. This stellar line up of officers, all singing the same tune is no coincidence. I believe it reflects a decision by some current and former senior officers at Scotland to fight back against the partisan political influence of Boris Johnson.
The Mayors lack of political vision and inability to grasp detail means he is incapable of seeing past his own narrow electoral interest. Policing needs politicians who act as statesmen/women who understand the strategic importance of maintaining public confidence and ensure they keep their political distance from on going specific policing inquiries.
The importance of upholding the principles of operational independence and maintaining public trust and confidence in the police cannot be overstated. Boris Johnson and Kit Malthouse treat these important issues with a stupefying level of arrogance and a casual disregard that is reckless.
Trust and confidence in the Metropolitan Police Service among Black, Muslim communities and young people has declined to an extraordinarily low level. I have not seen relations as bad as this since the widespread civil disturbances of 1986.
The political demand for huge increases in stop and search rates were demanded by the Mayor in response to the level of violence among young people. Whilst he oversaw massive increases in the blanket use of the power, he spectacularly failed to deliver his flagship youth projects aimed at diverting young people away from violence and crime.
As a result he created the conditions where alienation and anger at the police increased to the extent that young people decided that was no one really cared if they lived or died and that the police who were swarming their communities were the enemy.
The Mayors right wing politics render him blind to the effects of racism and black youth experienced increased levels of criminalisation as a result. The recent broadening of the remit of Operation Trident from its niche focus around black gun crime to "gangs" provides further evidence. Seeking to reinforce his 4-year record of failure in tackling youth violence he demanded that Trident now become an anti gang unit. The implication is clear and unambiguous: London's gang problem is synonymous with black communities.

This political co-option of Trident is a disaster, the consequences of which are profound.
The Mayors political agenda not only propels him to interfere in areas of operational policing where he has no business, he also finds himself absent on issues where he should be front and centre.
The August riot over the shooting of Mark Duggan is a case in point. Where were the Mayor and his Deputy when the very sinews of the relationship between the MPS and black communities were at snapping point?
The London riots could and should have been avoided and the Mayors dismissal of racism led him to conclude that all was well despite repeated warning that relations were at "boiling point" from a broad range of influential black people. Boris Johnson failed in the most dramatic way costing both London and the country millions of pounds as a result of riots that tragically saw loss of life.

Riots could have been avoided

This is his most heinous crime: the malign neglect of the issue of police and black community relations in London.
What we now know is that Kit Malthouse engaged in what can only be viewed as an on going campaign to derail the MPS hacking inquiry. I recall the time when I was falsely accused of unduly influencing the London Development Agency and the subsequent headlines and political comment. We faced fierce and unrelenting criticism about the "undue political influence" of Mayoral advisers.

Those accusations were proven to be nothing more than political opportunism; a racially and politically motivated smear campaign.
In contrast Boris Johnson's serious and fatal political errors born of unrestrained arrogance and ambition attract no such outrage, manufactured or otherwise.

Kit will have to resign, as the reality is that he has now lost all credibility among senior MPS officers who have conspired to hang him out to dry at the Levenson inquiry.
His position is untenable. He is though, deserving of some credit, in that he has managed the quite remarkable feat of uniting both MPS and London's black community in their open and trenchant criticism of him and his boss.
When Boris Johnson assumed control of the Police I wrote that he would come to regret that decision. The dangerous unrestrained Mayoral ambition to control the police was foolhardy. As Boris examines the approaching Mayoral electoral horizon, no doubt he will note that the sky is dark with chickens coming home to roost.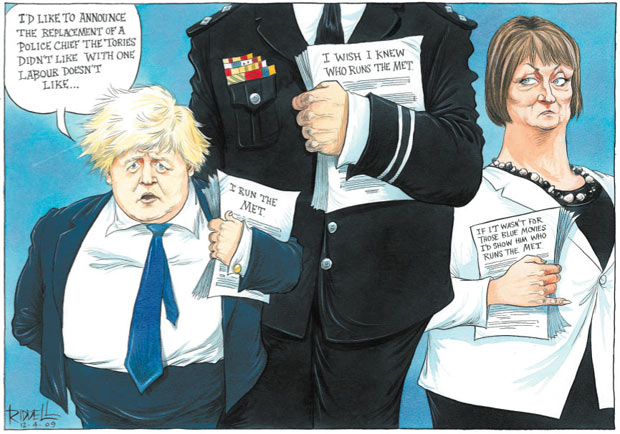 Image from The Guardian