Speech on Dr King's legacy by Lee Jasper.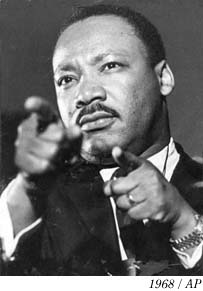 Today we come here to honor the memory of Dr Martin Luther King. His life's work, his principled commitment to speak truth to power and his fight for moral, economic and social justice, which has shone like a beacon of light for the last 5O years. Had he been alive today he would have stood with the Occupy movement, with the poor, the dispossessed and all those who suffer discrimination and economic injustice.
Today we assemble here on the steps of St Paul's London not as an organization or a group of organizations. We are not a mob. We are the advance guard of a massive moral revolution for jobs and justice. This revolution reverberates throughout the world, touching every nation, every town where economic injustice, racism and hatred reside.
From the Middle East in nations like Syria whose barbarous and bloody tyrant President Assad slaughters his own people while the West looks on.
From the tragic land of Palestine, where the Israeli nation continues to betray its tragic history and its people, through its continued ruthless oppression of peoples of the West Bank.
To the starving plains of East Africa where African humanity lies dying in millions for the want of clean water, shelter and food while the west cannot eat the food it has.
Here too in the shining citadel of London we have a message for the London Stock Exchange and No 10 Downing Street.

How have we become so that the rich are content to sustain their lifestyles at the expense of the poor, the elderly and disabled?
Where nations prioritize the economic interest of the market and trump the social and human rights of the people? Where we can spend £44 billion a year on bombs and arms and yet are happy to see our pensioners forced to choose between fuel or food and young people denied a place at university or college?
Great Britain, this land so long regarded as the bastion of democracy and civil rights still condemns people of colour, black people, to live lives blighted by racism.
A nation where young black men like Stephen Lawrence, Roland Adams and Anthon Walker can be murdered by vile evil racists.
A nation where a community like Eltham, South East London can continue to shield the killers of Stephen Lawrence and collude with the families of Jamie Acourt, Neil Acourt and Luke Knight to evade justice.
Where an Indian student like Anuj Bidve can be shot dead on the streets of Salford because his skin is not white.

Britain is a nation where for the poor and people of colour justice is too long in coming and often denied.
Anuj Bidve

In such a context white allies know that there cannot be justice for anyone while such while racism prevails. Where black men continue to die in police custody and police officers continue to evade accountability for their actions.
We know that we have no future in which black and white poor people are unemployed, and millions more live in poverty. Where black people are 30 times more likely to be stopped and searched and secure mental health units look like the galleys of slave ships. Where black women are treated as third class citizens and asylum seeker refugees and their children fleeing war and persecutions children are detained in prisons.
The danger we face is of increased racism at a time of economic crisis. Unscrupulous politicians and extreme right wing racists will seek to scapegoat black communities among others. There will be those who seek to gain cheap political capital by blaming us, the 99% for the profligacy and recklessness of the bankers and the selfish greed of the super rich.
Those who deplore our militancy, who exhort patience in the name of a false peace, are in fact supporting racism, economic injustice and exploitation. They would have social peace at the expense of social economic and racial justice. There are those who are more concerned with easing racial tensions than enforcing racial democracy.
This nation is a place of cheap political leaders who build their careers on immoral compromise and ally themselves with racism, economic injustice and social exploitation.
Today we remember Dr King and his absolute commitment to justice equality and non violence. That shining example sets our standards today and as we stand here in one of the financial capitals of the world we ask that

y

ou join us in. Let's occupy the dream of Dr King and dare to believe another world is possible
I end with this quote from Fredrick Douglass, an African American and ex slave abolitionist who said in the late 1880's in response to those who deplored his campaigning tactics and agitations,
"
Those who profess to favor freedom and yet depreciate agitation, are people who want crops without ploughing the ground; they want rain without thunder and lightning; they want the ocean without the roar of its many waters. The struggle may be a moral one, or it may be a physical one, or it may be both. But it must be a struggle. Power concedes nothing without a demand. It never did and it never will."
15th January 2012.
Operation Hope and Recovery London
Lee Jasper at St Paul's London, 15th January 2012.
Photo by OccupyLSX
Puni Selvaratnam from Tamil Women for peace and justice calls for global justice at occupy London
Photo by OccupyLSX
Maelo Manning, young blogger addresses St Paul's saying we must say no to racism!
Photo by OccupyLSX


 
Mike Faulkner sings 'did my lord deliver Daniel' by Paul Robeson
Photo by OccupyLSX




Mario Joseph Human rights Lawyer in Haiti talks of the Haitian revolution and the ongoing struggle for Haiti today
Photo by OccupyLSX
Ava singing redemption song on steps of St Paul's for Martin Luther King
Photo by OccupyLSX
Zita Holbourne from black activists rising against cuts Performs 'what do you see' inspired by King's 'I have a dream'
Photo by OccupyLSX
Marcia Rigg from Sean Rigg justice campaign who died in police custody: 'if King was alive he'd be in this struggle'
Photo by OccupyLSX
Ed Greens occupy Protestor performs poem 'no borders' : 'we call it freedom. they disorder!'
Photo by OccupyLSX
Ava Vidal talks about Diane Abbott tweet and importance of black communities uniting
Photo by OccupyLSX
Bishop Wayne Malcolm: Martin Luther King advocated civil disobedience to overcome racial segregation
Photo by OccupyLSX
Aaron Kiely, NUS Black Students Campaign 'Rosa Parks sat down so that we could all stand up
- and won't stop rising!' Photo by OccupyLSX
Bell Ribeiro-Addy brings the support of the Society of Black Lawyers to occupy london stock exchange
Photo by OccupyLSX
Baby Sol from the uprise anti-racism festival sings 'She Cries' about the Rwandan Genocide
Photo by OccupyLSX
Tanya Dempsey, occupy protestor talks about the fall of apartheid in the fight against racism
Photo by OccupyLSX
Tammy protestor from occupy 'it's better to be a lion for a day than a sheep for a lifetime'
Photo by OccupyLSX
Merlin Emanuel from Justice for Smiley Culture
Photo by OccupyLSX
Uplifting gospel choir sings 'lean on me' for Martin Luther King Day
Photo by OccupyLSX




Big cheer as Selma James tells of King's anti war stance and occupation of the whitehouse lawn
Photo by OccupyLSX